Today we take a look on Broad Financial for you. What is Broad Financial? A scam or a legit investment company for you? Are there better alternatives out there? These are some of the main questions this short review will focus on. Ok, here we go!
Company: Broad Financial
Website: www.broadfinancial.com
Owner: Brian Finkelstein, Mervyn Klein and Daniel Gleich
Price: Depends on your investment amount
Who is it for: Investors
Overall rating: 
(4 / 5)
==========================================================
Important to mention before we go into more details of this review:
We always strongly recommend to do your research online before you choose a company to invest with. There are so many reviews online of clients being ripped of and scammed. So please investigate thoroughly before you make your decision.
To see all of the gold investing companies we have given the highest ratings visit this page<==
With that being said, let´s continue with the review on Broad Financial!
==========================================================
What is Broad Financial about?
Broad Financial, founded in October 2004 as a private real estate firm focusing on the development of residential, retail, and industrial real estate along the East Coast.
Over the years it has developed into more than just real estate and offer a lot more investment options for its clients.
The physical address of the company is: 21 Robert Pitt Dr #202, Monsey, NY 10952, USA
How does it work?
The company is in short, plain and simple mainly an IRA custodian that offer a wide range of different assets to invest in.
What makes Broad Financial stand out a bit from its peers is that they do offer bitcoins as an asset for you to invest in also.
The Products and Services
Checkbook control
Gives you the option to just write a check that allows you to direct your solo 401(k) or IRA into almost any asset.
Real diversification
This service allows clients to invest their funds in real estate, tax liens, personal loans, and foreclosures. This is good as it doesn't tie you up to just one possibility to maximize your profits.
Rollover of funds
Easily rollover funds from your choice of IRA plan or retirement account no matter if you go for a SEP IRA, 401(k), Roth IRA, etc. Bitcoin and other cryptocurrencies are available as well.
IRAs?
Yes, IRAs are offered, it is kind of one of the main services of the company. Below you got the fees associated with setting up an IRA with Broad Financial: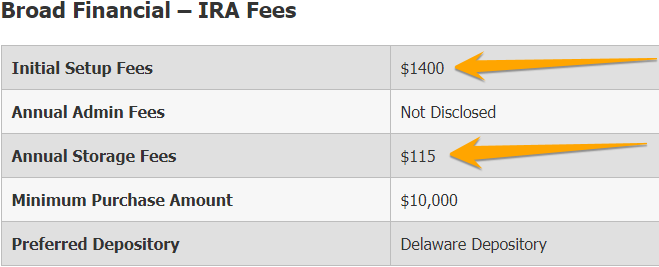 Important to mention here: What is interesting here is that the annual storage fee is actually pretty low (compared to many of its peers), that is, of course, a good thing. 
However, it is also important to mention that there are other companies that also got low fees (around $100 per year storage fee) and also even waive the fee for up to your first 3 years.
***Click here to read the review on a company that have lowest storage fees in the industry
---
Can you get the gold (and other metals) delivered to your home?
This is something that isn´t mentioned on their website, so you can (most likely) assume that it is not an option.
Can you store your investment with the company?
The company (BF) offer you storage through their third-party partner, the well known Delaware Depository.
Can you sell back to the company?
Once again, this is not something that is mentioned on their website, a qualified guess would be that you can not do that as many similar companies take pride in "announcing" such a function on their website.
Can anybody in any country use the service?
No, the services are for citizens living in the U.S. only.
Is Broad Financial a scam?
So, is Broad Financial a scam? No, it is not a scam, it is a legit company, of course. It would never have survived this long (founded 2004) if it wasn´t. How about the complaints and reviews on Broad Financial, how do they look?
Reviews, ratings, and testimonials on Broad Financial:
Here is a list of reviews and complaints found on the most trusted and well-known reporting & rating sites online.
BCA Rating: AAA
BCA Complaints: 0 Complaints
BBB Rating: A+
BBB Complaints: 2 Complaints 
Complaint Board: None Listed
Yelp: (2.5/5) based on 2 reviews 
TrustLink: Not listed
TrustPilot: (4.0/5) based on 1 review
Facebook:  (4.8 / 5) based on 5 reviews
Are there any red flags?
As you can see above the overall score from the reviews and ratings online are pretty high. On the other hand, they are not that many, especially not for a company that has been around since 2004.
It is also important to mention that there are some pretty negative reviews from real users online also, below is 2 screenshots on some of the worst I found:
Important to mention here: Even if (as you can see) there are some pretty serious complaints on the company it is also important to mention that most reviews are positive. If a company is active for let´s say 10-20 years, it would almost be strange if there was absolutely no complaints at all, right? 
However, it is when the complaints start to be a bit more than "just a few" you should start to worry.
You need to know that there are similar companies with just as high (and even higher) overall score and that with THOUSANDS of reviews!
***Click here to read about one with hundreds of reviews and ZERO (!) complaints
---
How´s the support?
One thing I always put a lot of weight on when it comes to the quality of the support of a company is if they got a live chat function or not. BF does not have this and that takes the overall support score down a bit.
A company of this size should, at least in my book, have a live chat function for its clients and visitors to be able to ask questions directly.
They do offer the "ordinary" e-mail address and phone number for you to be able to contact them with.
Why You Should (Or Should NOT) go with Broad Financial?
It is always good to compare the positive sides of a company with its negative sides before you make a decision. Below I have highlighted some main points on each spectrum for you.
The Good
Offers a wide range of different types of Self Directed IRAs.
Offers many different alternative assets including bitcoin, tax liens, private business, real estate, gold, etc.
An attractive choice in terms of price.
The Bad
There is no mention in their company website on any other cryptocurrency options except bitcoin.
They do offer a flat fee, however, their Bitcoin IRA charges are still not transparent.
Website lacks in support and some info
Got some negative reviews and complaints online
Do You Own or Represent Broad Financial?
If you are a representative, or associate of Broad Financial and have found something not to be correct in this review please, feel free to tell and I will make sure to update the info on this post. The easiest way to do it is in the comment section below or else you got the e-mail on the about page.
Final Words and Verdict on Broad Financial
Verdict: Legit
Overall rating: 
(4 / 5)
Ok, I think that sums the overall picture up pretty good. This is without a doubt a legit company, and also among the most trusted ones. The rating 4 out of 5 feels very fair for now. This can of course change to a higher or a lower one in the future as we make sure to update reviews made on this site if something "new" comes up.
You have made a smart choice reading this review as it is always recommended to research and compare many companies against each other before you make a decision.
As always the choice is up to you.
Which Company Do You Recommend?
If you are looking for a reputable gold IRA custodian besides any other company, you should check out GOLDCO.
GOLDCO have ZERO complaints from A LOT of real users. Used by celebrities, respected by well-known publications, and websites.
And A LOT more benefits!
---
I hope you found this short review on Broad Financial to be helpful and now you should have a better understanding of what it is and if it is something for you or not. If you have used any of their services please share your experience with us in the comment section below as it can help others. Also, if you got any questions on this review I will be more than happy to answer them below!
I wish you the best!
Michael
Founder of: Gold Retired
Pros
Resonable fee structure
Simple process
Good reputation
Cons
Unclear if your investment is insured