Today we take a look at a company named BullionVault. What is BullionVault? Is it a scam or a legit company? Will it be something for you or not? These are some of the questions we always try to answer, and this review will be no different. Ok, here we go!
Company: BullionVault

Website: www.bullionvault.com
Owner: Galmarley Limited
Price: Free to open an account.
Who is it for? Investors of all levels (from complete beginners to experienced)
Overall rating: 
(4.5 / 5)
---
Essential to mention

(before we go into more details of this review)
We strongly recommend doing your research online before choosing a company to invest in. There are so many reviews online of clients being ripped off and scammed. So please investigate thoroughly and compare different alternatives before you make your decision.
One example: 99.9% of companies got "pushy" salespeople trying to stress you into acting fast.
Here is the thing, the #1 Recommended Gold & Silver IRA Dealer on our top-5 list got No-salesy representatives… So they won´t bother or terrorize you with phone calls. 
You are an intelligent person, so I am sure that you understand the benefits of dealing with such a company instead, right?
+They got a couple more benefits you might appreciate as much as I do. You will understand yourself once you have visited the page (link) above.
==> See our Top-5 List of Precious Metals IRA Companies on this page <==
With that being said, let´s continue with the review on Bullionvault!
---
What is BullionVault?
Bullion Vault was founded in 2003 and got more than 65,000 (active) clients from over 175 countries, holding approximately $2 billion in stored bullion.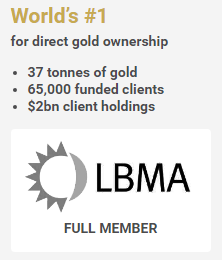 Worth mentioning is that the company's clients together hold much larger reserves than most of the world´s central banks, with more than 37 tons of gold and 500 tons of silver bullion.
The "slogan" of the company is to operate the world's most cost-effective, secure, and accessible market in professional-grade bullion, and that can also be an explanation for its popularity worldwide.
It used to be very difficult for private persons to find a safe and straightforward way that is also cost-effective to buy, store, and sell gold, silver, and other precious metals.
This process is made easy with BullionVault.
How Does it Work?
It is straightforward to get started with BullionVault. First of all, you need to create your free account.
Then you get going, click around on the website, and most things will be evident and easy to understand.
If you, later on, want to start investing, you need to, first of all, validate your identity and then find your account.
As I have made reviews on many of the similar top gold investing companies lately, I am happy to announce that this one doesn't have any minimum deposit limit. This company allows you to invest with ANY amount you prefer.
If you want to try out the process and see how it works, it can be done with an investment of as little as $1.
Important to mention: Most of the promotions you will find have a gift in money or free gold. It is, of course, no considerable amounts but a nice gesture anyway.
Do you want a small number of FREE metals?
I just created my account, and I got free money just for creating it! So this means I can start buying and selling without even having to deposit any of my own money… This, of course, means that you can too!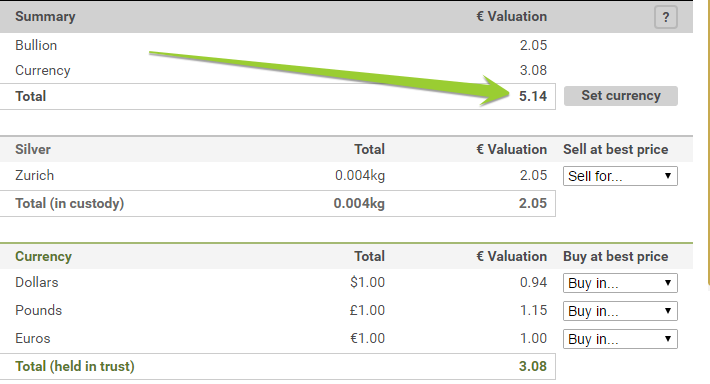 The products
So, as you might have already figured out, the products you can buy and sell are gold and silver, and platinum bullion.
You can buy and sell separately whenever you want, but you can also make an investment plan:
Gold Investment plans
There is also a function that allows you to buy gold regularly with the minimum effort possible from your side, as you can put this particular feature on auto-pilot mode.
Once it is set up, you make regular deposits into your bullion vault account, and the money will be used to buy gold into your account automatically. There is no need to place orders yourself or deal directly in the markets.
You can set up an automatic monthly payment (or standing order) from your bank account and build up your savings in the most secure investment there is gold.
This plan works only for gold. You pay money regularly (standing order). Whenever the balance is at least $100 or more (or currency equivalent), the system uses all of the funds available and places a buy order for gold in Zurich.
It does not work for every vault, and it applies only to gold.
You also have to enable that option in SETTINGS.
Important to mention: You can stop making deposits or sell your bullion and/or withdraw at any time, without notice.
Gold IRAs?
Does the company offer gold IRAs? No, it is not an IRA custodian, but they offer a way of funding purchases using IRA funds. More info about that is on the website.
Note: If IRAs are something you are looking for, I would strongly recommend that you look at our top 5 list of such dealers.
Can you get the gold delivered to your home?
Yes, you can, as it is your property, and you have the right to withdraw it. If you want to do that, you can get the gold in the form of a Pamp Fortuna bar.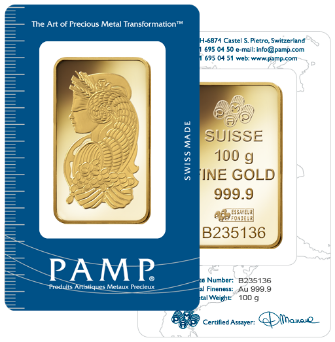 Important to mention: Most BullionVault users prefer to keep their bullion safely inside any of the different vaults as their gold is fully insured at the lowest cost and is also ready to be sold instantly at a maximum value 24/7 365 days per year.
Can you store your investment with the company?
As mentioned above, this is the most common way to keep the gold for the company's clients if they don´t want bars delivered to their homes.
The leading nature of the business is to give you access to an online exchange platform (The Live Order Board) via which you can buy professional, allocated gold, silver, and platinum and then vault it in an accredited location (where the metal is also insured).
Therefore, what you get is a way for you to buy the physical metal as a form of protection. And because this is a vaulted physical product, it provides better protection than coins or small retail bars at home.
Can you sell the gold back to the company?
You can sell your gold (or other precious metals) inside BullionVault.
You can either sell back via the platform to other BullionVault users or sell for the Daily London Price.
Can anybody in any country invest?
Yes, anyone in any country can sign up and become a client and use all of the services.
Is Bullion Vault a scam?
So, is BullionVault a scam or a legit company? It is legit, of course. If it wasn´t, there is no way it would have survived this long. It also got an actual physical address and honest owners, so there is no doubt about its legacy.
Its vast amount of happy members worldwide is so glad for a reason. It is a tremendous legit company.
How´s the support?
Compared to similar sites, the support of BullionVault is top-notch. First of all, everything is evident and easy to understand from the start on the site. There is also an FAQ (frequently asked questions) section, support e-mail address, etc.
I especially like the live chat function, where you will get help right away if there is anything you are not sure of.
(See screenshot below)

==>Click here to come to the site and chat with a representative for the company<==
Why should you (or should not) invest with Bullion Vault?
I always like to warn people who are planning to invest money they need for groceries… I will do the same this time, but this time is also a little different as you can deposit any amount you want and don´t need to fill out any minimum deposit requirements.
However, even if you start by "trying the system" with a small deposit, I would recommend that you, later on, make (at least) an overall investment of $2,000.
Why? Because the minimum monthly storage charge is $4 for gold and $8 for silver, if you invest too small of the amount, your investment growth might not be desirable.
Final words and verdict on Bullion Vault
Verdict: LEGIT
Overall rating:
(4.5 / 5)
Okay, I have made my point pretty clear on this company. It is a buy, store, and sell precious metals company that you can feel safe using. It is also one of the leading ones in the industry and completely legit.
I especially like the fact that there are no minimum deposit requirements to start using it as it can benefit everyone, including beginners and also people that might don´t have significant capital to invest right now
==> See our #1 recommended place for "smaller" purchases of quality gold & silver on this page
Or,
==> See our #1 recommendation to trade between physical Gold and Bitcoin

on this page
---
I hope you found this short review of BullionVault to be helpful, and now you should have a better understanding of what it is and that it is not a scam.
If you are an existing (or former) client, please share your experience below as it can be helpful for others.
Also, if you got any questions about this review, I will be more than happy to answer them below.
I wish you success!
Michael
Founder of: Gold Retired
[Photo/screenshot credit: BullionVault]