Today we will take a look on Goldline for you. What is GoldLine? A scam or a legit company? Are they for you or are there better alternatives out there? These are some of the main questions this short review will focus on. Ok, here we go!
Company: Goldline
Website: www.goldline.com
Owner: Brian Crumbaker (CEO)
Price: Depends on your investment amount
Who is it for: Investors looking to buy precious metals
Overall rating: 
(3.8 / 5)
==========================================================
Important to mention before we go into more details of this review:
We always strongly recommend to do your research online before you choose a company to invest with. There are so many reviews online of clients being ripped of and scammed. So please investigate thoroughly before you make your decision.
To see all of the gold investing companies we have given the highest ratings visit this page<==
With that being said, let´s continue with the review on Goldline!
==========================================================
What is Goldline about?
Goldline is one of Americas biggest physical precious metal dealers. It has been in business since 1960, so it got 50+ years of experience.
The physical address of the company is: 11835 W. Olympic Blvd, Suite 500, Los Angeles, CA 90064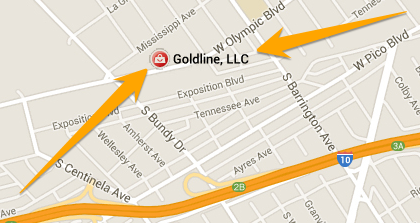 How does it work?
In short, it is a company where you can buy and sell precious metals.
The Products
The products offered are: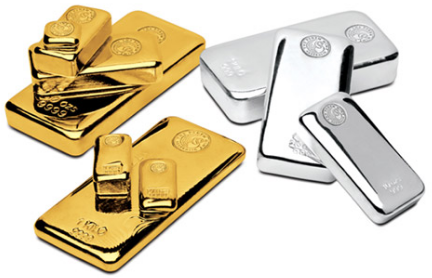 Gold
Silver
Platinum
Palladium
IRAs (individual retirement accounts)
IRAs?
Yes, IRAs are offered. Normally, in this part of the review, I provide a screenshot (or written info) on the yearly storage fees and other fees associated with setting up an IRA with a company.
However, I could not find any info on this on their website.
Worth to mention:
If IRAs are what you are after I strongly recommend you have a look at  GOLDCO as they are the #1 rated company for that a whole 7 years in a row now.
***Click here to check out the review on the #1 rated IRA custodian
---
you get the gold (and other metals) delivered to your home?
Yes, you can, if you want your investment delivered to your door that is not a problem. Your order should normally be with you within 28 days and the order is fully insured until you sign the papers at delivery.
---
Can you store your investment with the company?
Yes you can, they offer storage options for you at these 3 locations:
Las Vegas, Nevada
Zürich, Switzerland
Singapore, Malaysia
---
Can you sell back to the company?
Yes, you can. Below is an exact excerpt from Goldline's website on this particular topic:
It just takes three simple steps to sell your metals:

Call Goldline at 800-963-9798. Or you can email your list of products to info@goldline.com
Once we have indicated our interest to purchase your precious metals, send them to our office where they will be filmed, catalogued and counted. Our Client Service Representatives will provide detailed shipping instructions prior to shipping your products to Goldline, including appropriate insurance so your shipment is protected (Goldline cannot be responsible for loss or damage in transit).
Once your precious metals are received and authenticated, we will notify you of our purchase price and confirm your liquidation with one of our Client Service Representatives. We will issue payment, minus a small 1% liquidation fee, within three business days of confirmation. Please keep in mind that we only buy precious metals coins and bars. We DO NOT buy jewelry or any other precious metals that are not in a coin or bar form.
Can anybody in any country use the service?
No, their services are for people living in the U.S. only.
---
Is Goldline a scam?
So, is Goldline a scam? No, of course not, it is a legit company. It would never have survived since 1960 if it wasn´t. However, let´s look a bit deeper into the complaints, reviews, and ratings online from some of the most trusted and well-known review/rating sites online.
---
The reviews, ratings, and complaints of Goldline:
BBB (Better Business Bureau)

Rating: A+
Review score: 2 complains out of 2 reviews
Trustlink
Rating: 2,5/5 stars (based on 46 reviews)
Trustpilot

Rating: 9,8/10 (based on 4203 reviews)
Yelp
Rating: N/A
Glassdoor
Rating: 3,3/5 stars (out of 35 reviews)
Ripoff Report

Rating: 5 complaints
Pissed Consumer:
Rating: 1 complaint
---
Conclusion:
As you can see there are both positive and negative reviews online on the G L company
**Want to see what company that is #1 rated online? Click here
---
Any red flags?
As you can see above there are actually a lot of reviews online on Goldline, not so strange when you think about that the company has been active since 1960, right?
However, the results are mixed and not only positive.
Let´s take a look at some of the more serious complaints about the company.
Below is an exact excerpt from one "not so happy" client of Goldline that you can find on the website Ripoff Report:
---
Goldline International, Inc. Similar to a stock advisor? Give me a break! Santa Monica California

Several years ago, I filled out an online form of Goldline Interntional's to receive some literature about investing in precious metals. Soon after I was contacted by John Arnette, a salesperson with Goldline. John was pleasant and convincing. He informed me that I should view him as an "adviser" similar to my stock broker. I was interested in buying gold but was not yet ready. When the time was "right", I called John back with the intention of purchasing a large amount of Bullion gold. The price of gold at the time was $420/ oz. and the price of silver was less than $7 per oz. In my opinion that was pretty good timing. John "advised" me to talk further with one of Goldline's Numismatists. I was young as a precious metals investor and was looking forward to the education and "advice". The Numismatist sounded very educated and convinced me to invest half of my money in Silver PCGS MS64 Peace Dollars. I agreed, as he told me that these had sold for as high as $250 each in the 1980's. I purchased 1000 of them at a price of $52 each ($52,000 in Peace Dollars).

I recently called them back to re-sell my Peace Dollars. They told me that they would pay $47 each. At this time, the price of silver had doubled from the price it was when I first bought from Goldline. I asked the representative, "What would the price of silver have to be for me to get my money back?" The buyer from Goldline informed me that it would likely have to hit $20 per oz. before I could get $52 a piece for them. When my stock broker "advises" me on an investment, he certainly does not trick me into buying something that would have to more than triple before I can break even. It was this phrase from John and I quote – "We are telling our customers that they should view us as someone similar to a stock broker" that hooked me. What a bunch of liars and deceivers these scam artists are at Goldline. Beware friends. If there is a class action suit against this company, I want in.

William
Asheville, North Carolina
U.S.A.
Read all complaints on Ripoff Report? click here (opens in new window)
---

Click here to read ALL of the complaints from this (Trustlink) site (opens in new window)
---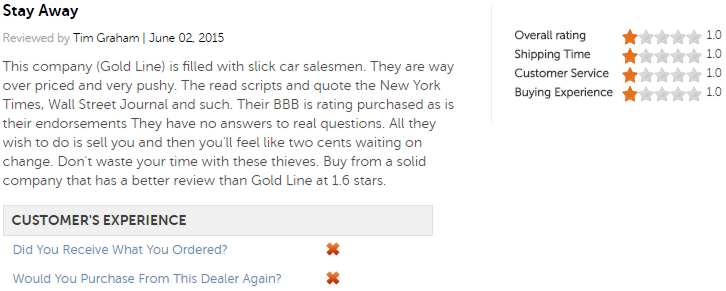 To read more complaints and reviews from this site (golddealerreviews.com) click here (opens in new window)
---
As you can see there are some pretty serious complaints on Goldline, you need to know that there are gold dealers and IRA custodians that actually got ZERO (!) complaints online, and also with thousands of reviews.
***Click here for one with ZERO complaints and one that have among the lowest fees in the industry
---
How´s the support?
One thing I always put a lot of weight on when it comes to the quality of the support of a company is if they got a live chat function on their website or not.
Goldline does not have this and that takes the overall support score down a bit, at least in my book.
They do have a physical address, e-mail address and phone number for you to contact them with your questions and inquiries.
---
Why You Should (Or Should NOT) Join Goldline?
One thing that is good to do when you look at a company is to compare its pros with its cons.
Below I have highlighted some clear points to make this an easier job for you:
The Good
Been in business since 1960
Transparent pricing (at least according to their website, some reviews 0nline say different…)
The Bad
Some pretty serious complaints online
Website lacks in support and also in some info on IRA fees for example.
---
Do You Own or Represent Goldline?
If you are a representative, or associate of Goldline and have found something not to be correct in this review please, feel free to tell and I will make sure to update the info on this post. The easiest way to do it is in the comment section below or else you got the e-mail on the about page.
---
Final Words and Verdict on Goldline
Verdict: Legit
Overall rating: 
(3.8 / 5)
Ok, I think that sums the whole overall picture on this company up pretty good. This is a legit company, absolutely, no doubt about that. I mean if you have been able to survive since 1960 it got to mean that you are running a legit business (at least I hope so).
However, the complaints are there for anyone to see online, also, another thing I don´t like is that the website lacks a bit of info when it comes to yearly IRA fees for example.
For now, I cannot give a higher rating than 3,8 and that feels completely fair. It can of course change to a higher or lower one in the future as the reviews on this website are getting updated as soon as some "news" on a company comes up.
You have made a smart choice reading this review as it is always recommended that you research and compare many different companies against each other before making an educated decision.
Am absolutely sure that you will find an IRA custodian that is right for you as you clearly understand this concept (you wouldn´t have read this far if you wasn´t) 😉
As always, the choice is up to you!
Which Company Do You Recommend?
If you are looking for a reputable gold IRA custodian besides any other company, you should check out GOLDCO.
GOLDCO have ZERO complaints from A LOT of real users. Used by celebrities, respected by well-known publications, and websites.
And A LOT more benefits!
---
I hope you found this short review on Goldline to be helpful and now you should have a better understanding of what it is and if it will be the company for you to invest with or not. If you have used any of their services please share your experience with us in the comment section below, as it can help others. Also, if you got any other questions on this review I will be more than happy to answer them below.
I wish you the best!
Michael
Founder of: Gold Retired