Today we take a look on Pensco Trust for you. What is Pensco Trust? A scam or legit Self Directed IRA dealer? Will it be the one for you or are there better alternatives out there for you? These are some of the questions this short review will focus on. Ok, let´s go!
Company: Pensco Trust

Website: www.pensco.com
Owner: Curtis A. Glovier
Price: Depends on your investment amount
Who is it for: Investors
Overall rating: 
(2.5 / 5)
==========================================================
Important to mention before we go into more details of this review:
We always strongly recommend to do your research online before you choose a company to invest with. There are so many reviews online of clients being ripped of and scammed. So please investigate thoroughly before you make your decision.
To see all of the gold investing companies we have given the highest ratings visit this page<==
With that being said, let´s continue with the review on Pensco Trust!
==========================================================
What is Pensco Trust about?
Pensco Trust is a regulated, self-directed IRA custodian. It was founded in 1989, so it has soon been in business for 30 years. With over $16 billion in assets under custody and more than 52,000 client accounts, they have to be considered as one of the leading companies in the industry.
The physical address of the company is: 275 Battery St Suite 1220, San Francisco, CA 94111, USA

How does it work?
This company is for you who are looking for a self-directed IRA custodian.
The Products to invest in
Real Estate
Private Equity
Promissory Notes
Other asset types
IRAs?
Yes, IRAs are offered, it is kind of the main thing of the company. However, when looking on their website you cannot find gold or any other precious metals as an investment option.
***Click here to read about an IRA custodian that allows you to invest in gold and other precious metals
Can you sell back to the company?
This is something that is not clearly mentioned on their site so you can (most likely) assume that it is not an option as most of its peers take big pride in displaying such a feature on their websites.
Can anybody in any country use the service?
No, the services from the company are for citizens living in the U.S. only.
Is Pensco Trust a scam?
So, is Pensco Trust a scam? No, it is not a scam. It is, of course, a legit company. It would never have survived this long (founded 1989) if it wasn´t.
However, if they are worthy to be called among the leading ones in the industry I leave up to you to decide for yourself, below is the:
The Reviews and Ratings online
One of the first things you should always look on to find out whether a company is a scam or not, or simply just to know if a company is for you or not, is the reviews online. Personally, I always go by the law that if the negative ones overshine the positive I stay the h**l away. I highly recommend you to do the same.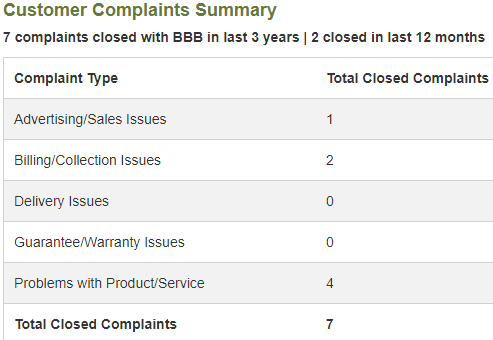 BBB (Better Business Bureau) "screenshot to the right"
Overall rating: A+
Nr of complaints: 7 (2 in the last 12 months)
Trustlink:
Overall rating: N/A
Trustpilot:
Overall rating: N/A
YELP

Overall rating: 2/5 stars (out of 48 reviews)
Glassdoor
Overall rating: 3,1/5 stars (out of 27 reviews)
Ripoff Report

Overall rating: 4 VERY negative reviews
Pissed Consumer
Overall rating: 8 reviews and all of them was negative.
Are there any red flags?
Well, as you can clearly see above, the overall score from some of the most trusted and well-known review sites, are far from super positive.
Below you got some screenshots from the pissed consumers, below them I will provide a link if you want to read them in more detail
---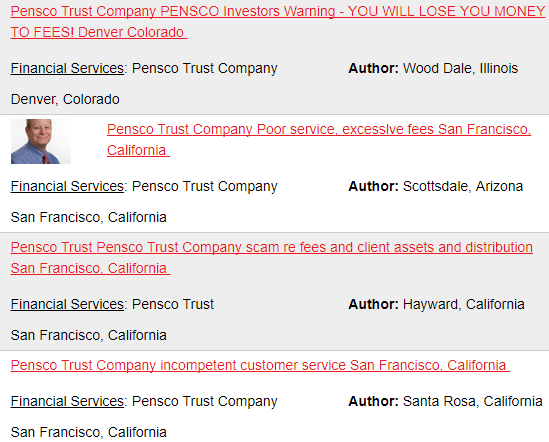 ==> Click here to read more detailed (opens in new window)
---

==> Click here to read more detailed (opens in new window)
---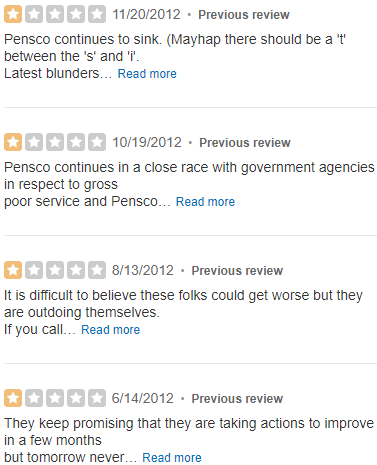 ==> Click here to read more detailed (opens in new window)
---
Important to mention here:
As you can see there are some pretty serious red flags. The complaints are just a bit too many (at least in my book).
***Click here for our Top 5 list of IRA custodians with the highest ratings online
---
How´s the support?
One thing that I always put a lot of weight on when it comes to the quality of the support of a company is if they have a live chat function or not. Pensco Trust does not have this and that takes down the overall support experience score.
They do offer e-mail support and a phone number you can call with your inquiries.
Why You Should (Or Should NOT) Join Pensco Trust?
It is always good to compare the pros and cons of a company against each other to get a better overall picture. Below I have highlighted some key points to make this easier for you.
The Good
Almost 30 years in business
$16 billion in assets
52,000 clients
The Bad
The many negative reviews online
Do not offer gold and other precious metals as an investment option
Website lacks in info and support (live chat)
Do You Own or Represent Pensco Trust?
If you are a representative, or associate of Pensco Trust and have found something not to be correct in this review please, feel free to tell and I will make sure to update the info on this post. The easiest way to do it is in the comment section below or else you got the e-mail on the about page.
Final Words and Verdict on Pensco Trust
Verdict: Legit
Overall rating: 
(2.5 / 5)
Ok, I think that sums up the overall picture pretty good. This is a legit company, absolutely. However…
The MANY negative reviews have at least affected me enough to actually give one of the lowest ratings an IRA custodian of this size has got on this website (StartMakeStopWaste.com).
It can change to a higher or lower one in the future as this review gets updated as soon as some "news" on a company we have reviewed comes up.
You have made a smart choice reading this review as it is always recommended that you research and compare many different companies against each other before making an educated decision.
Am absolutely sure that you will find an IRA custodian that is right for you as you clearly understand this concept (you wouldn´t have read this far if you wasn´t) 😉
As always, the choice is up to you!
Which Company Do You Recommend?
If you are looking for a reputable gold IRA custodian besides any other company, you should check out GOLDCO.
GOLDCO have ZERO complaints from A LOT of real users. Used by celebrities, respected by well-known publications, and websites.
And A LOT more benefits!
---
I hope you found this short review on Pensco Trust to be helpful and now you should have a better understanding of what it is and if it is for you or not. If you have used any of its services please share your experience with us in the comment section below as it can help others. Also, if you got any other questions on this review I will be more than happy to answer them below.
I wish you the best!
Michael
Founder of: Gold Retired