Today we review Perpetual Assets for you. What is Perpetual Assets? A scam or a legit IRA custodian? Are you better off purchasing your assets elsewhere? These are some of the main questions this short review will answer! Ok, with that being said, let's get into it!
Company: Perpetual Assets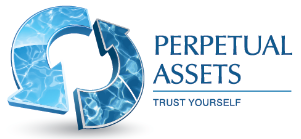 Website: www.perpetualassets.com
Owner: Not mentioned on their website
Price: Depends on your investment
Who is it for: Investors
Overall rating:
(2 / 5) Not recommended
---
Warning before we start:
Please ALWAYS do your own due diligence and research before putting your trust into any investment company. As we have reviewed over 90 precuíous metal dealers and custodians on this website in the last 1,5 years we can easily say that the number of consumers that have been scammed and ripped off is MANY. The part where most ripoffs take place is in so-called hidden fees, where clients get "surprised" with costs after they have made the agreement that wasn´t mentioned in advance. So 100% transparency is what you want to look for in a company.
To read about the precious dealer and IRA custodian that is ranked #1 for the last 8 years click here
Ok, with that being said, let´s continue with the review of Perpetual Assets.
---
What is Perpetual Assets about?
Perpetual Assets (PA) was founded in 2013. The company is a precious metals dealer, consulting and investing firm and LLC IRA Facilitator. The company is based out of Texas, however, their contact address is Perpetual Assets, 1041 Market Street #398,
San Diego, CA. 92101… Below is a video (with an interview with Dr. Jeffrey Lewis) that can be found on their website, it is recorded around 4 years ago:
P.S. On their website, there is no info on any owner or CEO… This leads to some red flags (at least in my book) and I explain why, further down in this review.
---
How does it work?
The motto of the company is "Trust Yourself" and means in short that nobody knows what investments are better for you than yourself… So how it will work to invest in the company is that you will get help to get educated first so you then can know for yourself what investment is right for you. This means in short that you will be provided with a lot of info and education from the company so you can study it and go through the material.

That is actually a good thing, and also an approach that also many other precious metal dealers and IRA custodians go with.
---
What products and services do they offer
The services of PA includes both consulting and investment services. The products you can invest in are:
Gold
Silver
Cryptocurrency
Metals card
IRAs
---
IRAs?
Yes, IRAs are offered, they can consist of either precious metals, agriculture, energy or (new) cryptocurrency. The process is explained in more detail on their website. Below you can basically see the process in pictures: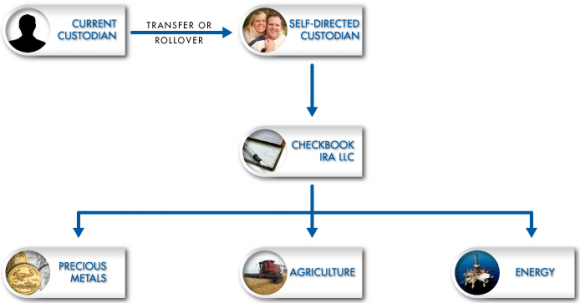 Important to mention here:
You need to know that fees can vary a lot depending on with what company you choose to set up your IRA, below you can see an exact excerpt from the PA website about the fee subject for IRAs:
State filing fees for LLC formation vary.  Contact us for information on your state or for filing out of state.

Our total solution fee is $1995
==> Click here for our #1 recommended IRA custodian (That got among the lowest fees in the industry)
---
How good is the support of PA?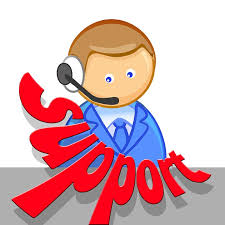 One thing that I always put a lot of weight on when it comes to the support system of a company is if they got a live chat function or not on their website. Does PA have this? No, they don´t.
How can you contact them with your questions then? They got an e-mail support service and also a phone nr for you to call with any questions you might have.
---
Is Perpetual Assets a scam?
So, is Perpetual Assets a scam? Well, I don´t think so but there are a couple of red flags that you should be aware of, and also some other options that you should be aware of also before making any decision. But first, let´s go through the red flags I have found on PA, it is 3 clear red flags I want to address in first hand.
1: No owner listed on their website (or anywhere else to be found online)
When a company chooses to not list their owner, you should always think twice. Why? Well, first of all, it is something "questionable companies" pretty much always do in ANY industry. The reason for that is (in most cases) that they aren´t willing to stand behind their product. Think about it, any reputable company out there are always proud to display their owner, the person is, of course, proud of his product/service and stands behind it to a hundred percent.
2: The address when searching on it on Google do NOT show up
As mentioned earlier in this review the company is based out of Texas (according to their website) but the contact address is in San Diego (California). I did a quick Google search on the exact contact address and looked it up on the map and this is the result that Google gives me (see screenshot below):

For a bigger version of this search result click here (opens in new window)
As you can see the name of the company does not match the address that they have included on their website. Hmm, what´s going on here?
3: There is not much that support their legacy from the most well known and trusted review and rating sites online.
The only reviews and testimonials to be found on the company are on their own website… What do the most well-known and trusted review and rating sites have to say? Well, not much… One thing that is pretty remarkable is that they are not listed either by the BBB (better business bureau) or the BCA (business consumer alliance).
BBB
Overall rating: N/A
BCA
Overall rating: N/A
Trustpilot

Overall score: N/A
Trustlink
Overall score: N/A
Yelp
N/A
Ripoff Report

N/A
The conclusion from this:
There is nothing to be found in the company and that is a bit strange I would say as they have been in business since 2013… Especially when you take into consideration that there are other companies that have been operating their business for the same, longer or even less amount of time and got both testimonials and ratings from the most well-known review and rating site.
**Read about one that has been in business since 2009 (got thousands of testimonials)
---
The pros and cons of PA
It is always wise to compare a company's positive sides against their negative before making a decision to go with the particular company or not. As always we have pointed out some clear points on both sides of the spectrum for you to also make this task a little easier for you:
The good
Offer much educational material on their website
Allows small investments in precious metals
The bad
No owner listed
The address issue
Lack of testimonials and info from the most well-known and trusted sites online
---
Final words and verdict on PA

Overall rating:
(2 / 5)
Ok, I think this sums up the overall picture of this company pretty good, I can absolutely not recommend it for the moment as there are simply too many clear red flags.
The rating 2 out of 5 stars feels very fair for now as there are simply too many question marks surrounding the company for the moment. This rating can of course change to an either higher or lower one in the future as we make sure to update our reviews as soon as any "news" comes up on the particular company we have reviewed.
As always the choice is up to you to make but I would not recommend PA as there are other companies out there that offer the same services but got both real owners, address, and a great reputation.
Better alternatives?
Yes, I would say that you got other alternatives that you might want to check out before making a decision on what´s best for you. We have reviewed many that have got a much better overall rating than PA and they are listed on this website. To see the top 3 list you can click the link below:
I hope you found this short review on Perpetual Assets to be helpful and now you should have a better understanding of what it is and if it is a scam or not. Please, if you have used any of their services share your experience in the comment section below as it can help others. Also, if you got any questions about this review I will be more than happy to answer them below!
Be social and help others! Share this by using the share buttons below (Facebook, Twitter, etc)
I wish you success!
Michael
Founder of: Gold Retired